Officials Management AT YOUR FINGER TIPS.
Make your life easier and minimize mistakes

with TeamSideline's next-gen Officials Module.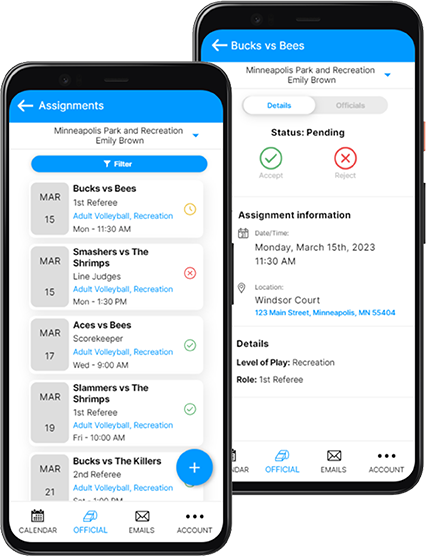 If you manage the assignment of your Officials, then you may want to add on the TeamSideline Officials Module to your Site. The Module is designed to accomplish two primary goals. First, to be 100% integrated with the game Schedules you create in your Site. Second, to be configurable by you so you can customize the Module to match exactly how you manage your Officials.
If a game changes times, then the officials are notified so adjustments can be made, making everyone's life easier and minimizing mistakes. Supports assignments by the coordinator, or allows the officials to choose their games, or a combination of both. You set who is approved for what type of game, and then the official only sees what they are approved for. Includes post game reports and payment tracking features as well.
CONFIGURABLE
Whether your Officials are umpires, referees, line judges, or anything else, you decide what to call roles for each sport. Perhaps you want to assign your officials – no problem – use the Assignment Model configurations. Perhaps you want to let your Officials sign up for Games? Use the Publish Model.
ASSIGNMENTS
When you add Officials, you determine if they can umpire different age groups, levels of play or even genders – you can use all, none or in between. It's your call. When you select a game to make an assignment, only the Officials who qualify for that game type (age, level, gender) will be visible for selection – and only those who are available for the day and time of that game.
FACILITY TYPES
The Officials Module Payment Function enables you to set the amounts to pay your Officials by Role and Level of Play. Perhaps there are exceptions to the rule? — You can override the default Payment Schedule and setup Payment Schedules for specific Officials.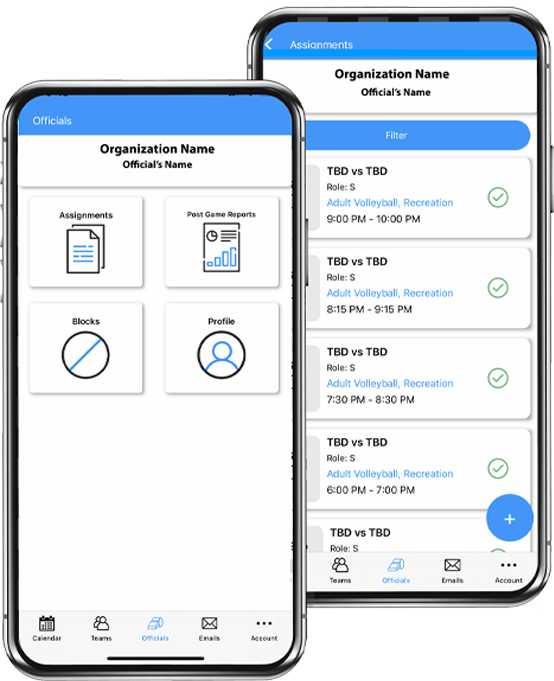 COMMUNICATIONS
When you complete the Add Official on the Officials page, if you have included their email address in the Primary Email Address then TeamSideline will automatically send the Official a New Account email so the Official can sign in and see Assignments. After that, no matter what Assignment Model you have chosen, on a nightly basis (one time per day) an Officials Assignments email will be sent to each Official listing the Assignment changes specific to them. Officials will also receive an Official Reminder email one day before their Assignments. Need to send out a custom communication? – go to the Send Communication page, click the Officials checkbox to send a communication to all of your Officials, or, click the plus sign to the left of the Officials checkbox to select specific Officials to send the communication to. Use the attach file function to select a PDF from your desktop to attach the PDF to your email – or embed links to websites, upload pictures – it's all here.
Officials Management. Simplified.
Download the TeamSideline App today!